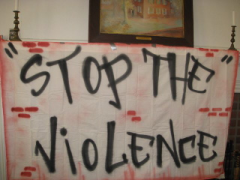 "The first step to peace is to stand still in the Light."
George Fox
Meeting for Worship,
Sunday 10:30-11:30 AM
Our First Day School for Children meets from 10:30 to 11:15 AM so that all children can join in the last 15 minutes of the worship service.
Not to be missed
---
October 6, 2012 through January 6, 2013 at the Delaware Art Museum
"So Beautifully Illustrated" -- Focus on Katharine Richardson Wireman
After studying with Howard Pyle, Katharine Richardson Wireman (1878-1966) began her career as an illustrator of articles and stories for adults and children, advertisements, and fashion features. Especially known for a number of lively color covers for The Country Gentleman from 1916 to 1924, Wireman ably adapted her versatile style to a variety of subjects through the mid-twentieth century. This exhibition will also include a selection of works by other women illustrators of the period, providing a context for Wireman's art.
Almost one hundred years ago, Katharine Wireman, then an active member of the Meeting, drew the picture of our Meetinghouse that is the logo of the Meeting's newsletter and the background of this web page today. Thank you, Katharine!
---
Building Community - a letter from Jean Gajary: Member Jean Gajary describes her community building vacation.
Office Hours: Monday through Friday, 9:30 a.m. to 12:30 p.m.